The Definition of a Truss
A truss refers to a truss beam, which is a latticed beam-type structure, that is, a structure in which rods are connected by hinges at both ends. The truss comprises straight rods and generally has a plane or space structure with triangular elements. The truss rods mainly bear the axial tension or pressure, so the material's strength can be fully utilized. When the span is large, it can save material, reduce the self-weight and Increase stiffness. Trusses are also commonly referred to as roof trusses as they are primarily used in roof structures of buildings.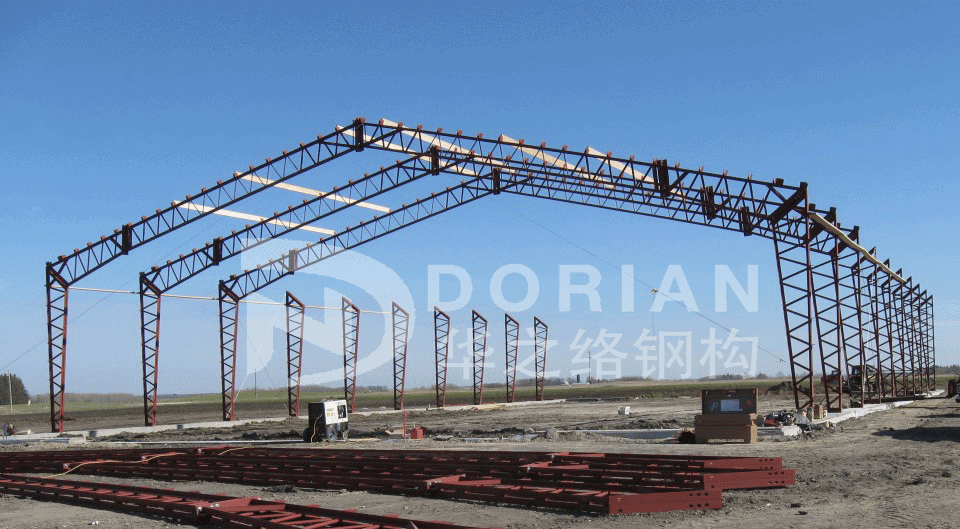 The Advantage of a Truss
The advantage of the truss is that the rods are mainly subjected to tension or pressure so that the strength of the material can be fully utilized. When the span is large, it can save material, reduce its weight and increase the stiffness compared with an H-shape beam. According to the structure, trusses can be divided into triangular truss, trapezoidal truss, polygonal truss, hollow truss, and truss bridge. According to the product type, it can be divided into the fixed truss, Folding truss, butterfly truss, and ball joint truss.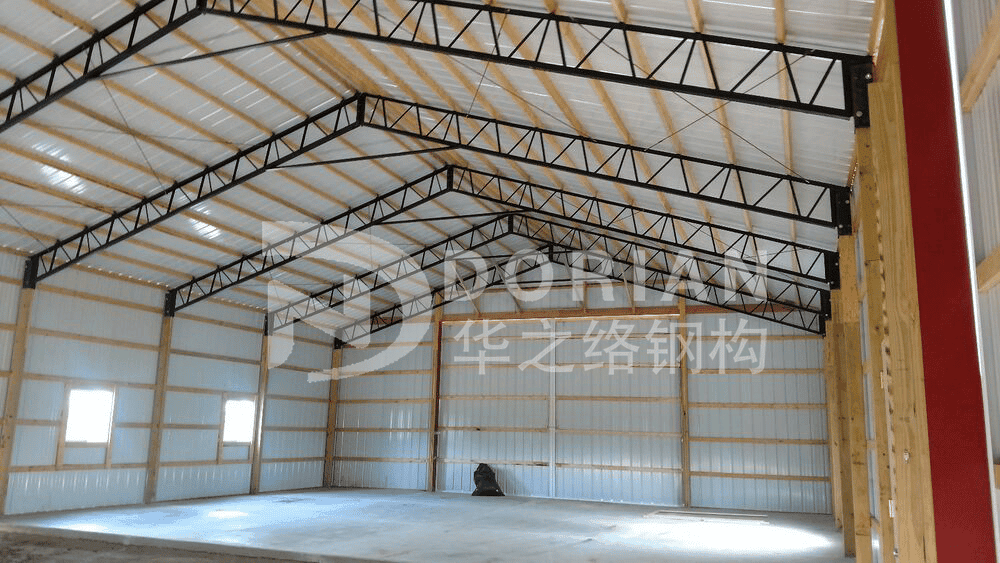 Theoretical Principle
A truss is a geometrically invariant structure composed of triangular frames composed of straight rods. The joints between members are called nodes. According to the axis of the truss members and the distribution of the external force, the truss can be divided into a plane truss and a space truss. Spatial structures such as roof trusses or bridges are composed of a series of parallel plane trusses. If they mainly bear plane loads, they can be simplified as plane trusses to calculate.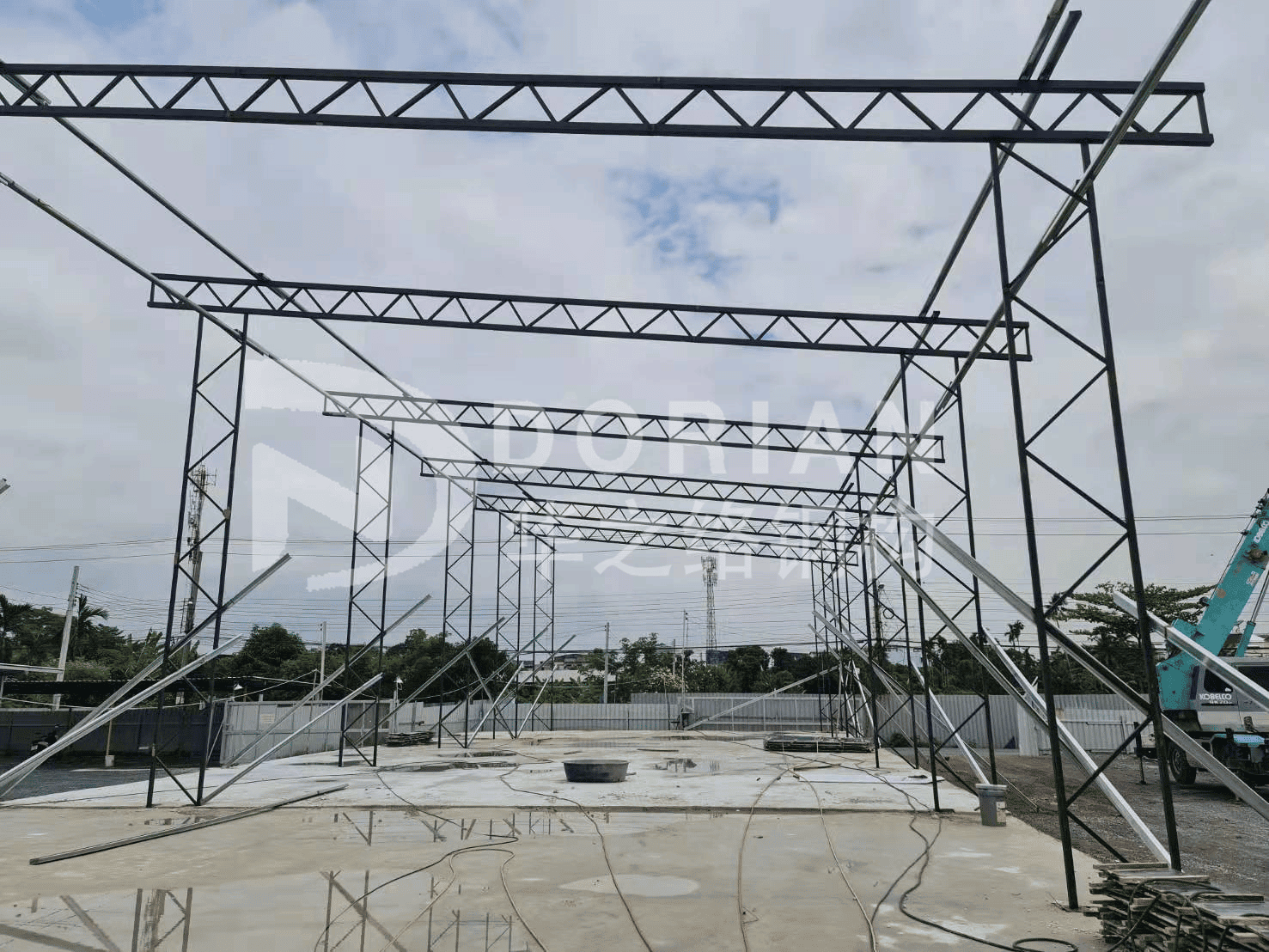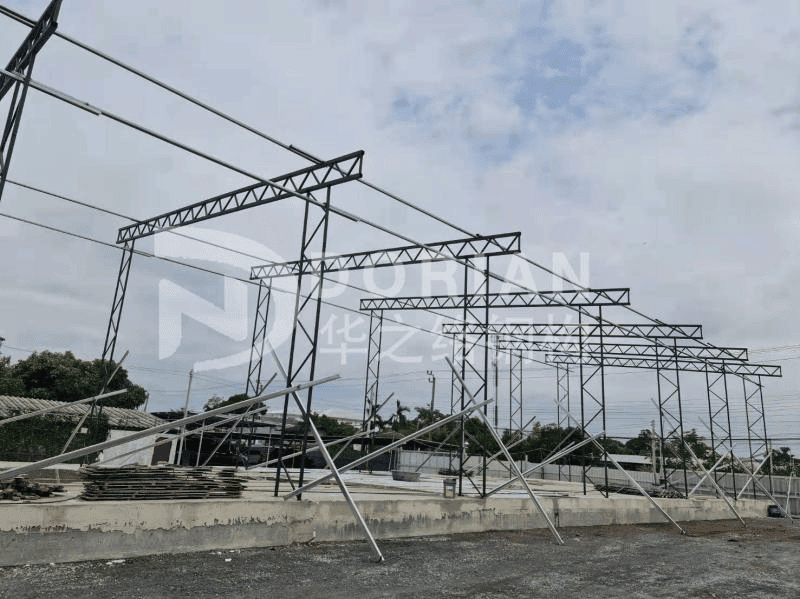 The Application
Truss structures are often used in large-span steel structure factories, exhibitions, gyms, bridges, etc. Truss steel structures are widely used in steel structures, such as roofs (roof trusses, etc.) and crane beams (crane trusses) of industrial and civil buildings, bridges, cranes (its towers, beams or booms, etc.), hydraulic gates, In offshore oil production platforms, steel trusses are often used as the main components of load-bearing structures. Various types of steel grids, which are widely used in the roof structure of large-span public buildings, belong to space steel trusses. Various types of towers, such as TV, power transmission, drilling, crane towers, and mast towers, commonly used three-sided, four-sided or multi-sided flat trusses composed of space steel trusses.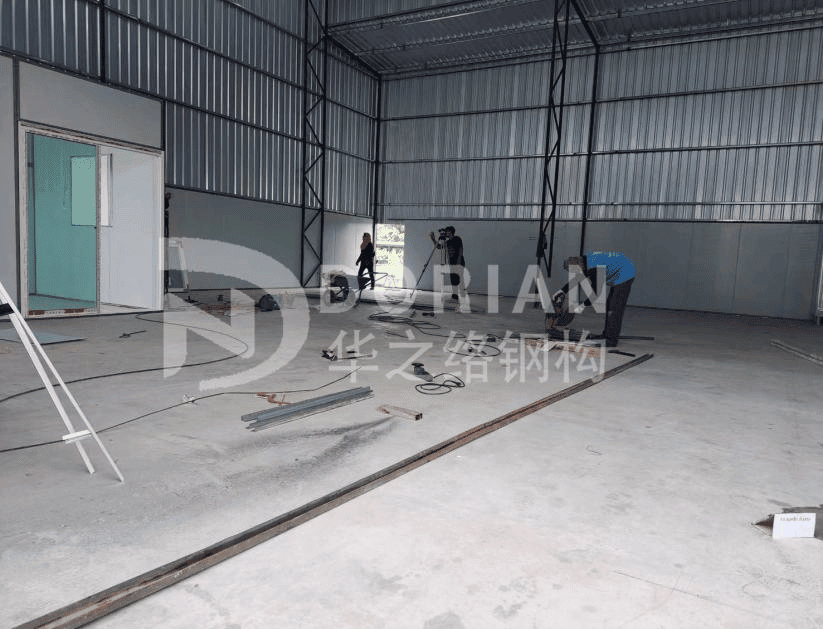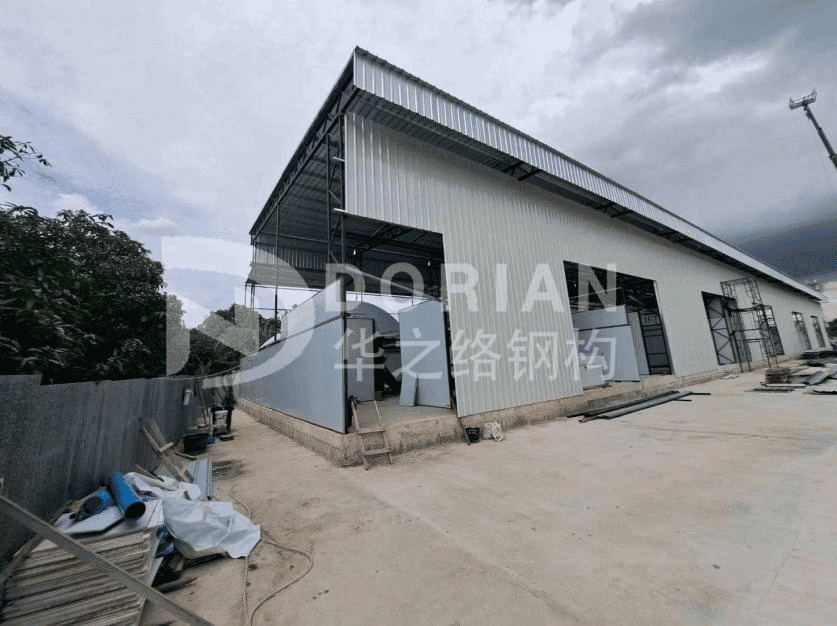 1000m2 Truss Steel Structure Project Project
Compared with truss beams and solid web beams (that is, beams we generally see), in terms of bending resistance, due to the concentrated arrangement of the tension and compression sections at the upper and lower ends, the internal force arm is increased, so that with the same amount of material, Greater flexural strength is achieved. In terms of shear resistance, the shear force can be reasonably transmitted to the support by arranging the web rods reasonably. In this way, whether it is bending or shearing, the truss structure can give full play to the strength of the material, so it is suitable for building roof structures of various spans. More importantly, it converts the complex stress state inside the solid web beam under the action of transverse bending into the simple tension and compression stress state in the truss member, which enables us to intuitively understand the distribution and transmission of force, and facilitate the change and combination of the structure.
Dorian team designed and exported a 1000m2 steel warehouse to Thailand, which adopt a truss steel structure. Steel beams and columns are made up of square tubes and displayed by a triangle pattern, which keeps the whole steel structure stable and strong. Moreover, All steel beams and columns are plane trusses and single slope beams as it's lightweight and thus saved much material cost.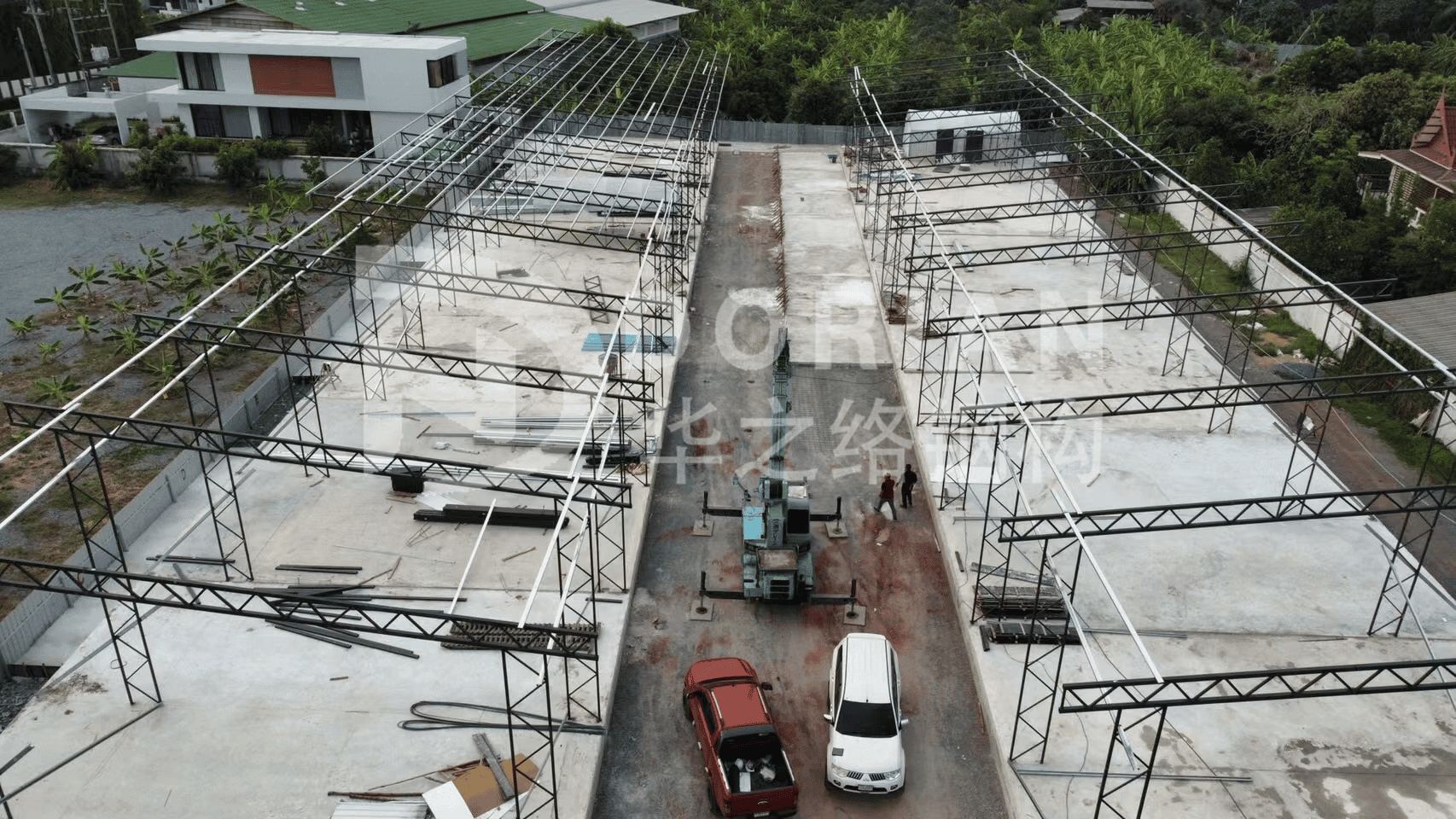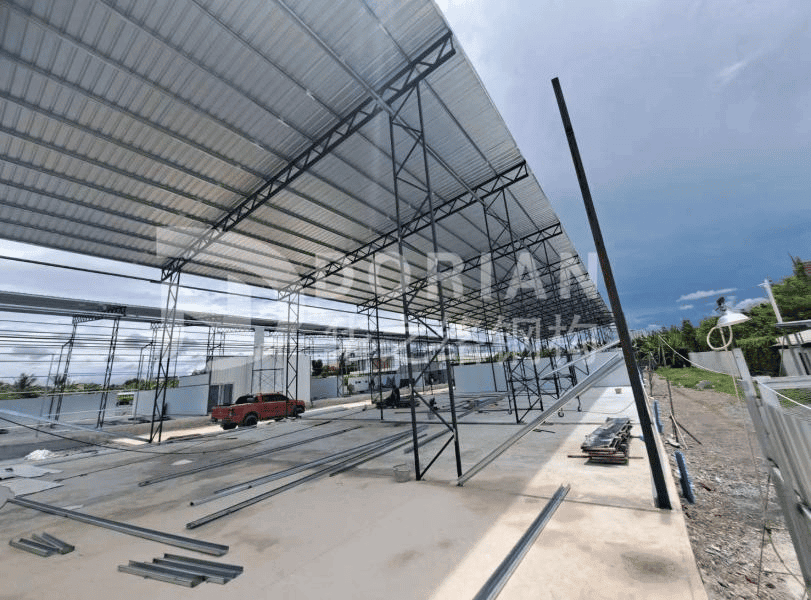 By the way, because materials of this building are not very big. Dorian welded whole steel beams and steel columns in the factory by Dorian workers. Compared with welding raw materials on site, connected steel beams and steel columns by welding saved much installation time and labor cost.
The whole steel beams and columns, wall and roof panels have already finished installation, the installation of doors is still proceeding...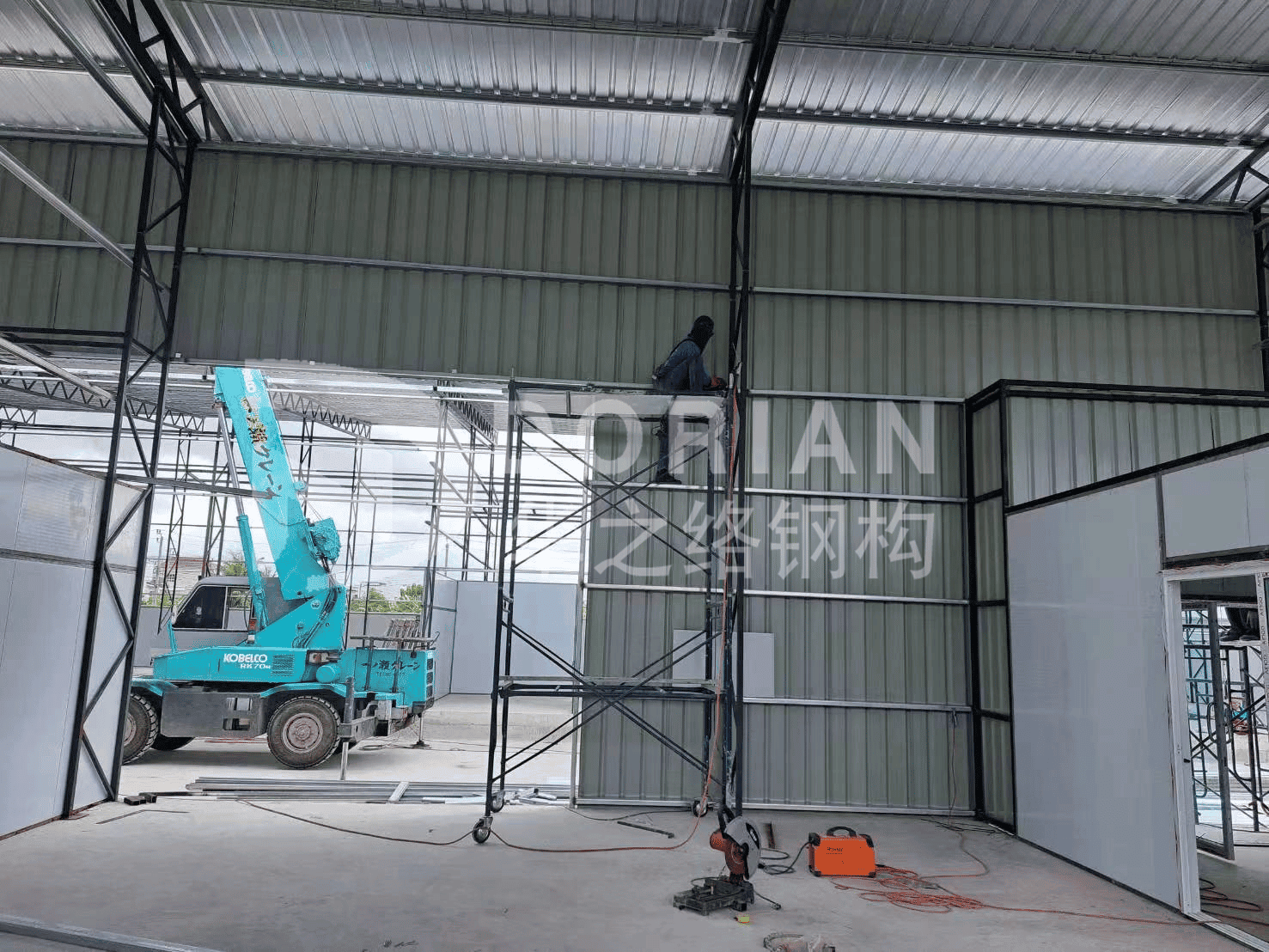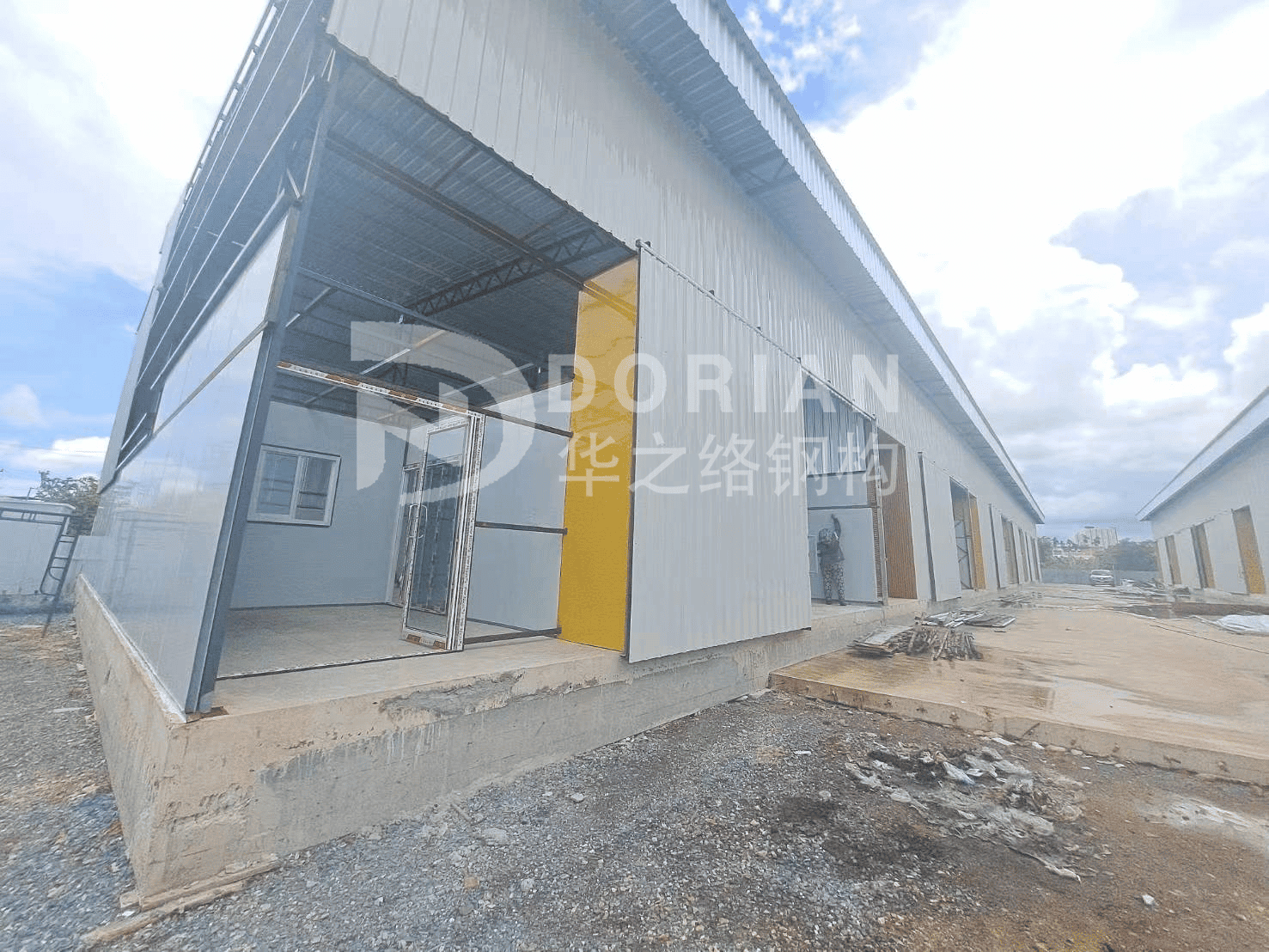 Dorian has rich experience on global market, which has exported a lot of steel buildings to Philippines, Thailand, UAE, Chile, Angola and so on. In addition, Africa, South America, Asia, Middle East are also Dorian's main market.