At the beginning of November 2020, the 600 square meters Steel Structure Warehouse sent by Luoyang Dorian New Materials Technology Co.,Ltd to Côte d'Ivoire was shipped smoothly.
Before booking shipment, our sale team ,engineer team and Structure support team work togather pre-design multi-plan the sequence of the goods according to the volume and weight of the goods not only to ensure that the goods can be placed on the frame safely and stably but also meet client budget requirement.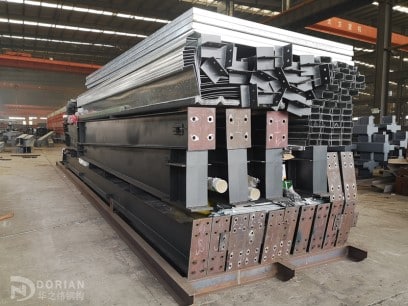 After confirm with our customer, we choose 40HQ container type and the bottom is fixed with steel frame. The bottom frame is made of thick steel which is welded by hand. The whole frame is very strong and can carry about 30 tons of goods.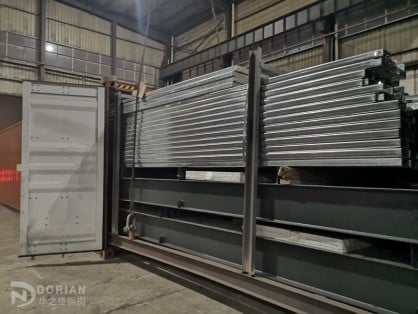 When the goods are placed, the workers will weld steel channels on the side to further stabilize the goods. The top steel channel and the side steel channel are welded together, and the whole is stable.
Then, welding, Dorian support team use 8 strands of steel wire rope to strengthen the goods.
After all the goods are fixed, wire ropes are used to connect the steel ring at the bottom of the steel frame to hoist the whole goods into the container.
This kind of loading method can ensure the stability and avoid the scattered and collision of the goods. And it is also very convenient for customers to unload.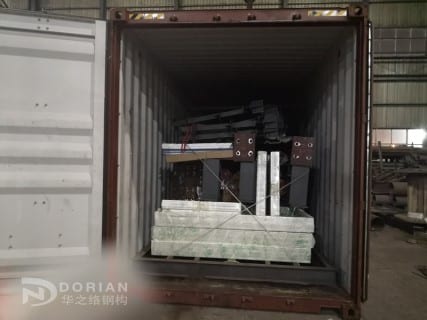 In addition, after receiving the goods, the steel frame at the bottom can also be reused by customers, which is very practical.
Last but always remember, if you need any help in Steel Structure or Steel Building related area, ask Dorian before make decision.