Building Size: 27x28x7m
Project Location: Penang, Malaysia
27x28x7m steel structure rubber processing workshop in Penang, Malaysia.
Background
Malaysia has rich resource of rubber, rubber products are exported all over of the world, the sales volume increase year by year. In 2016, government increased the investment of rubber industry, which provide more related jobs. With the development of rubber industry, Dorian's customer have also joined this field. Build a 750 square meters steel structure workshop to processing the rubbers.
Panel Color
The color of roof wall panel can be chosen based on RAL color card. Customer choose RAL5024 pastel blue as the color of roof wall panel. It is a clean and relaxed color. Brick wall also painted same color, keep the consistency of the whole building style.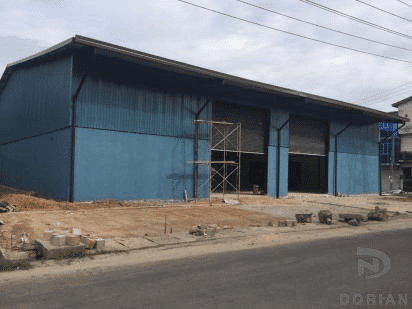 Roof Eave
Engineer design the roof eave 300mm. 300mm is a common length. Roof eave prevent the rain into the workshop. There is a lot of rain in Malaysia. For easy drainage, customer ask 1.2m roof eave, add the gutter and downpipe in front of the roof eave. 1.2m eave provide a shelter for people to hide the rain and protect the electric rolling door.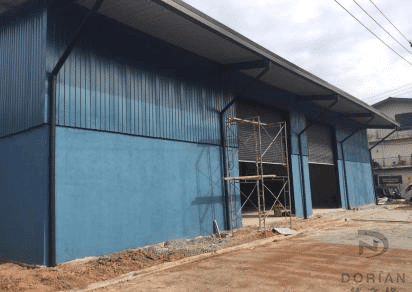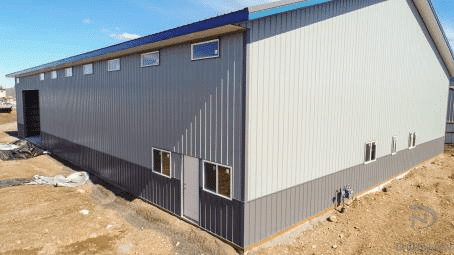 Mezzanine And Stair
The position of mezzanine is on the right, dimension is 28x5x3m, stairs are on both side. Stairs are made of channel steel and diamond plate, prefabrication process will be prepared in the workshop of suppliers. Which can be installed directly when customer receive it. The materials of handrail is round tube, it needs to be welded on the side of stairs. Steel structure building suppliers provide the detailed installation layout of stair and handrail.
In addition, some steel columns are needed to support the mezzanine, the distance of each support column is 3-9m. Engineer design the distance according to different loads. The mezzanine plate need to put on the mezzanine beams as platform. Common models of mezzanine plate are 1025mm, 690mm, 880mm, 688mm, 690mm, 600mm, 750mm, 760mm. Mezzanine plate should be installed on the platform beams by pegs. Next step is to make steel rebar mat, put cement, then a complete and solid mezzanine is finished.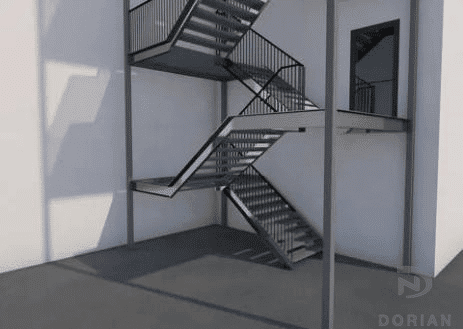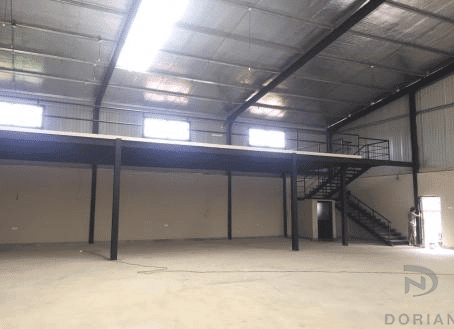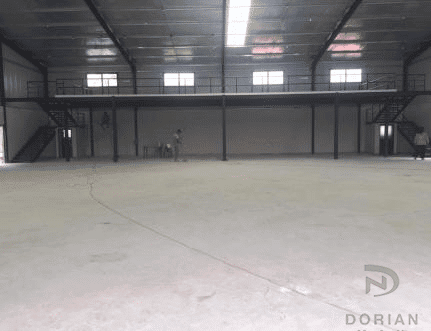 Roof Wall System
There are some additional small parts under the main beams, the position of them is between steel beams and beams(steel columns and beams), it is necessary for suppliers to add them to follow the local policy. Considering the heavy rain and economical/insulated requirements from customer, single layer steel sheet+glass wool+steel mesh are recommended. Glass wool has a better insulation function with low price, the tinfoil also choose the waterproof, fireproof, anti-condensation tinfoil. Customer choose fewer wall purlin to save cost. Engineer control the wall panel in a proper position and quantity for install the wall panel. Dorian provide a best proposal under high quality low cost requirements from customer.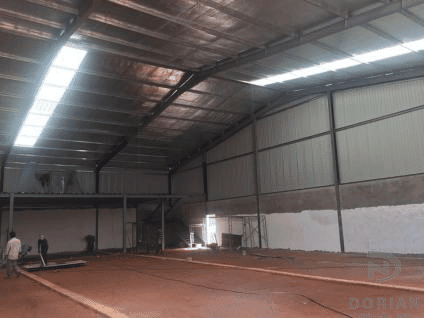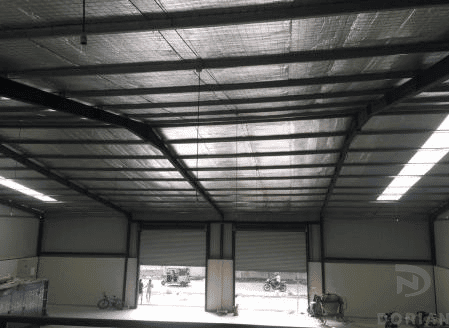 Afterwards
The building was installed and put into use, and the client was so pleased with its quality and Dorian's service that he told us he would recommend it to others.